Kansas Corral and Livestock Fencing
We sell, install and repair custom steel corrals and fencing for cattle, livestock and horses. We serve Haven, Yoder, Pratt, Hutchinson, and all of central Kansas.
Our cattle & livestock products can be configured to your specifications. We offer dozens of features and options to meet your goals. Our services include:
Custom Installations
Continuous Fencing
Adjustable Alleyways
Corral Chutes
Heavy Duty Gates
Cattle Feeders
Round Pens
Corral Repairs
Permanent and Temporary Products
And More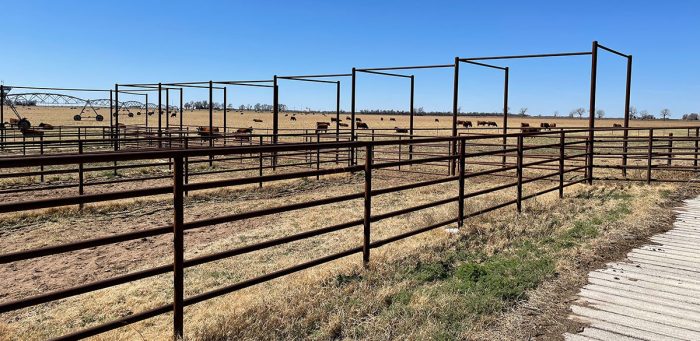 Steel Corral Panels for Livestock and Horses
We specialize in fencing for livestock and horses. Our steel panels are a popular and safe way to contain animals on your farm or ranch. This type of corral is prefabricated in a variety of sizes. This is a durable product with a long lifespan. Panel joints are welded, and all steel components are treated to resist rust and corrosion.
Our corral products can be installed in a variety of configurations, with options for pipe shape, pipe diameter, pipe spacing, height, and more. A cost effective way to contain cattle, horses, sheep, goats, and more.
Custom Built Corrals in Kansas
Wells offers custom fabrication for all types of corrals. We can work on prefabricated fencing that requires a repair or customization, or we can build a completely custom corral built to your specifications. If you have a corral project in Kansas, get in touch for an estimate.
Continuous Fence Panels
Our continuous fencing is a durable and attractive option for any farm or ranch. These panels are offered various heights and section sizes, horizontal bars configured to your needs. Continuous fencing are a popular choice for livestock containment. They are portable, lightweight, and easily customize. We sell and install continuous fence panels in the Haven, Yoder, Pratt, Sterling, and central Kansas areas.